Farming games are often contained within a small area, such as the town where your farm exists. Harvest Moon: The Winds of Anthos changes up traditional familiar farming expectations by combining heavy elements of exploration. In fact, exploration is almost more of a focus than the task of farming itself.
Related: A Guide To Getting Started In Harvest Moon: One World
This shift in focus is quite different for a farming game, so if you're used to staying in one main area it'll take a little bit to adjust to this different style of play. With a few tips, you'll be prepared to navigate the beginning of this spacious new world.
Complete Quests
If you've played farming games before, you might be used to getting right into typical farming tasks. Perhaps you like to meet all the people in town as your first goal. In Harvest Moon: The Winds of Anthos, you'll have a tutorial that walks you through tasks.
The first in-game week of the tutorial gives you basic tasks to familiarize you with the game mechanics and general farming tasks. If you're brand new to the farming game genre, this is a helpful game to have.
Most of the beginning tutorial is very direct in giving you quests and having you complete them immediately, and then it opens up into some normal farming routine options. It can still feel like a tutorial though, because progress is generally locked behind quests.
If you don't realize this, it's easy to become frustrated at how slowly everything is going. The shops in town aren't open, and the townspeople just say the same thing repeatedly.
Any quests, especially ones you get from the character Doc Jr., are critical to your progression. Some quest tasks will take a very long time, and it's okay to slow down rather than rush your progression.
The Best Way To Make Money In Early Game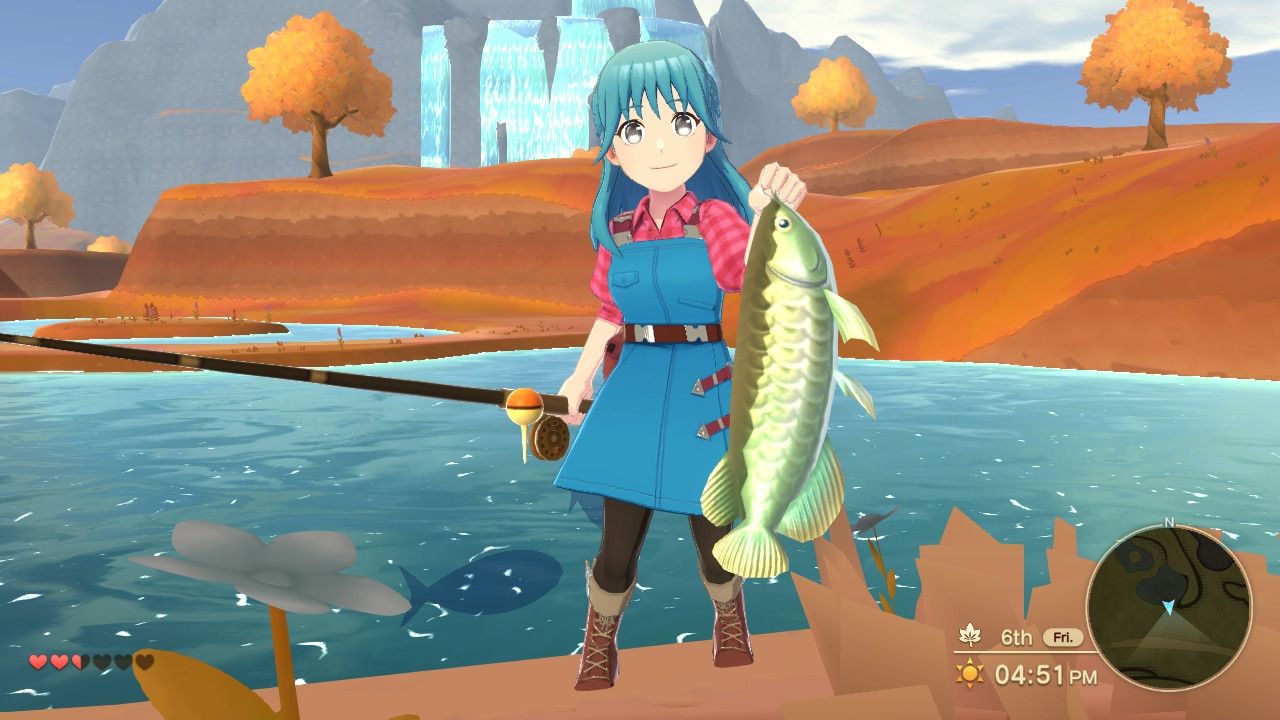 Farming games usually allow you to make decent money from your crops, even at the early stages of the game. In Harvest Moon: The Winds of Anthos, however, it's better to keep many of your crops.
Instead, fishing provides much more money than crops. You'll need both good money and crops to make yourself enough food to take care of daily tasks.
You can keep and eat the fish if you prefer. You don't need any recipes, and you can eat the fish without any cooking involved.
You can fish with or without bait, and even without bait you can obtain higher-quality fish. The higher the star quality of the fish, the better the price you'll get when you sell it.
Managing Stamina Is Crucial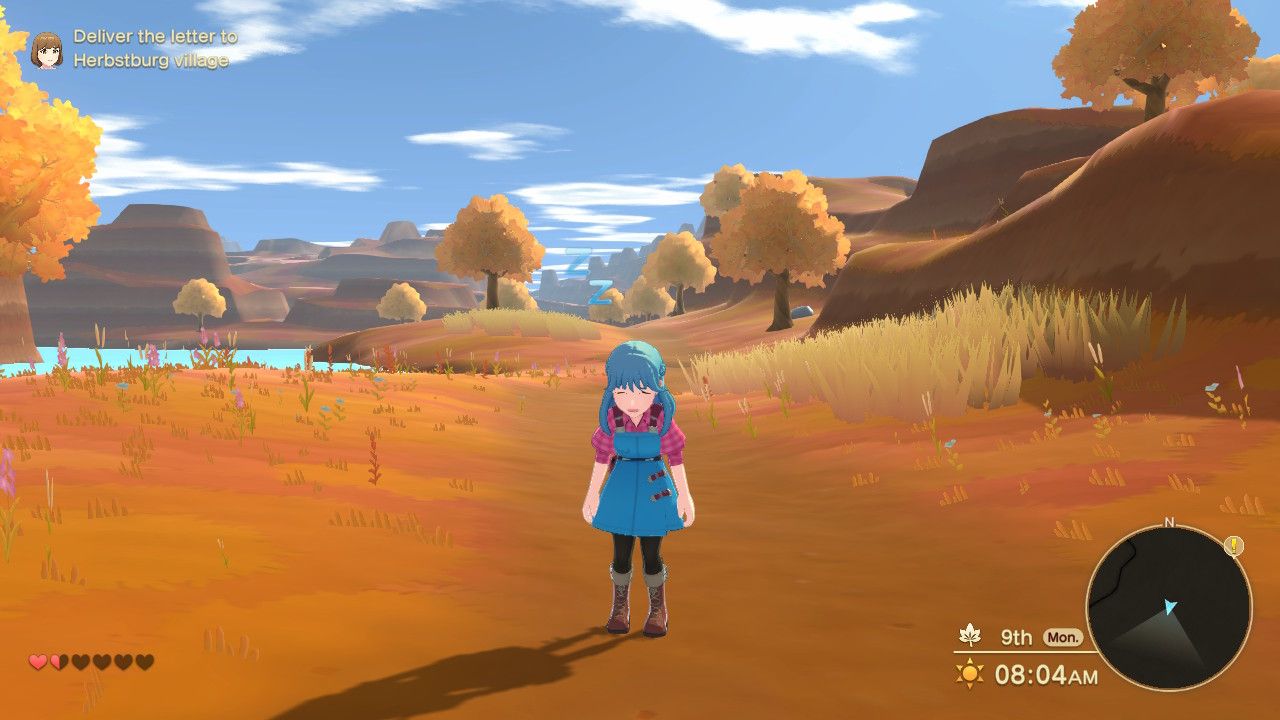 Stamina management is not a new mechanic to farming games, however, it's important to remember that walking around will use up stamina. The first bit of progress before you unlock fast travel options is challenging.
In the beginning of the game you may need to prioritize basic tasks, and save crops for a week before you can venture into the mine. You'll need lots of meals just to get a few floors down into the mine.
One of the nice things about Harvest Moon: The Winds of Anthos is that you don't actually need to go to bed. The day will switch over, and you'll get a scene showing the day changing on the calendar.
If you don't sleep, however, you will suffer from sleep deprivation the next day. Sleep deprivation basically results in exhaustion. You'll lose stamina more rapidly in that condition.
Your crops won't suffer too much if you don't water them for a day, so it's okay to stay up all night for some progress goals. You shouldn't have too many animals at first, so if you stay up they'll have a couple of days' worth of feed if you fill up all the feeding troughs.
Talk To Sprites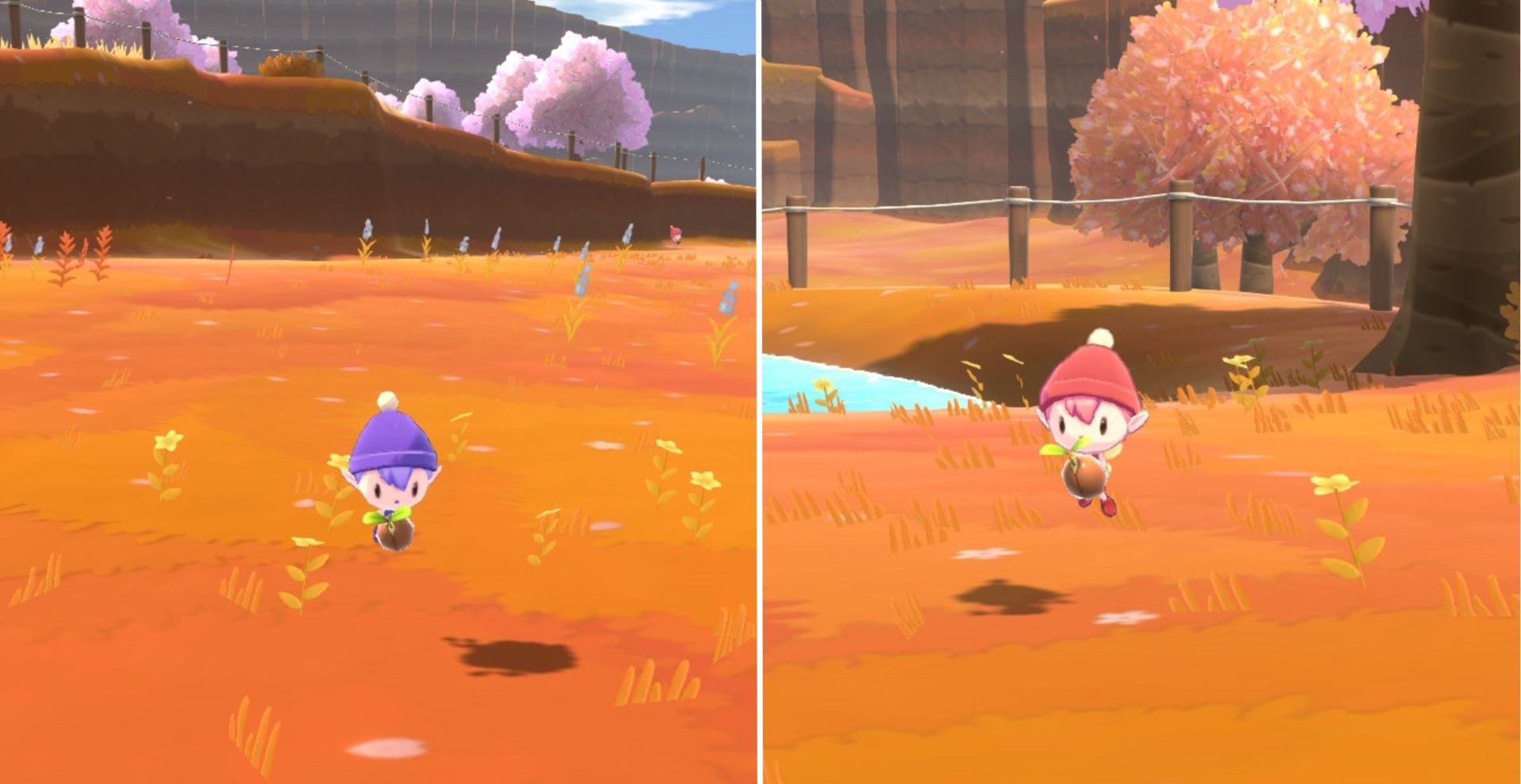 There's no need to buy seeds in the early game. Once you unlock the animal barn you might want to buy some grass seeds for feed, but otherwise it isn't necessary.
Red and purple sprites are abundant in the beginning area. All you need to do is talk to them, and they'll give you seeds. Talking to the same sprite any day will give you more of the same seed it originally gave you.
This keeps the cost of farming to a minimum, and also encourages traveling. If you want to find different seeds, you'll have to find and speak with more sprites.
You have a special tab in your inventory for items such as seeds. Make sure to put the contents in storage before you travel to speak with sprites. There's not much inventory space for the seeds and it will fill up quickly.
Multiple activities like cutting grass, chopping trees, or smashing rocks can reveal hidden sprites. Talk to as many as you can, and you'll have more than enough seeds to keep you busy.
Mining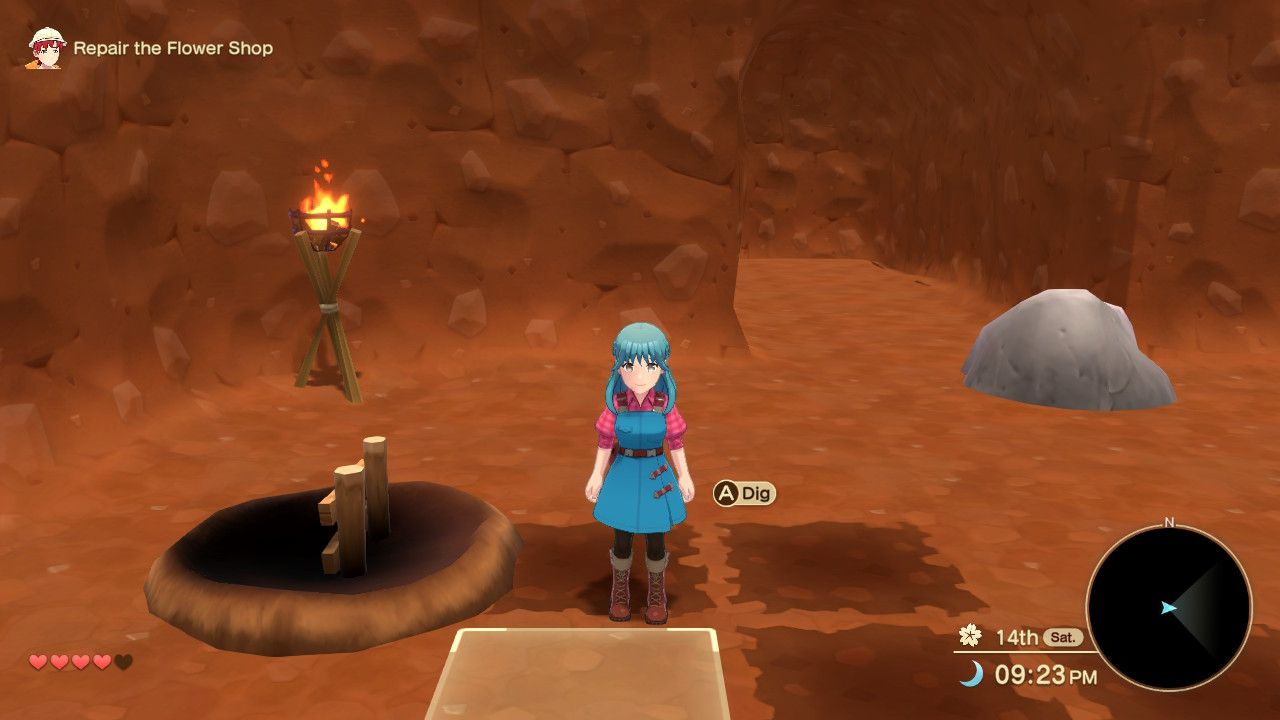 One of the most challenging tasks you're given in the early game is to repair the animal barn. Instead of needing only wood, you'll also need silver.
Silver ore is rare to impossible to find in the beginning floors of the mine. You'll need to mine past level ten to find it.
The good news is that every ten levels saves a shortcut for any future mining sessions. You'll be able to start right at level ten and keep working your way down from there instead of starting all over at level one.
Keep your camera tilted toward the ground when you mine. Rocks fall from above sometimes, and you can get hit if you don't notice the shadows on the ground, and move out of the way in time.
You'll most likely need to plan ahead for lengthy trips into the mine. If you want to get through ten or more floors, plan to stay in the mine overnight.
Move Your Farm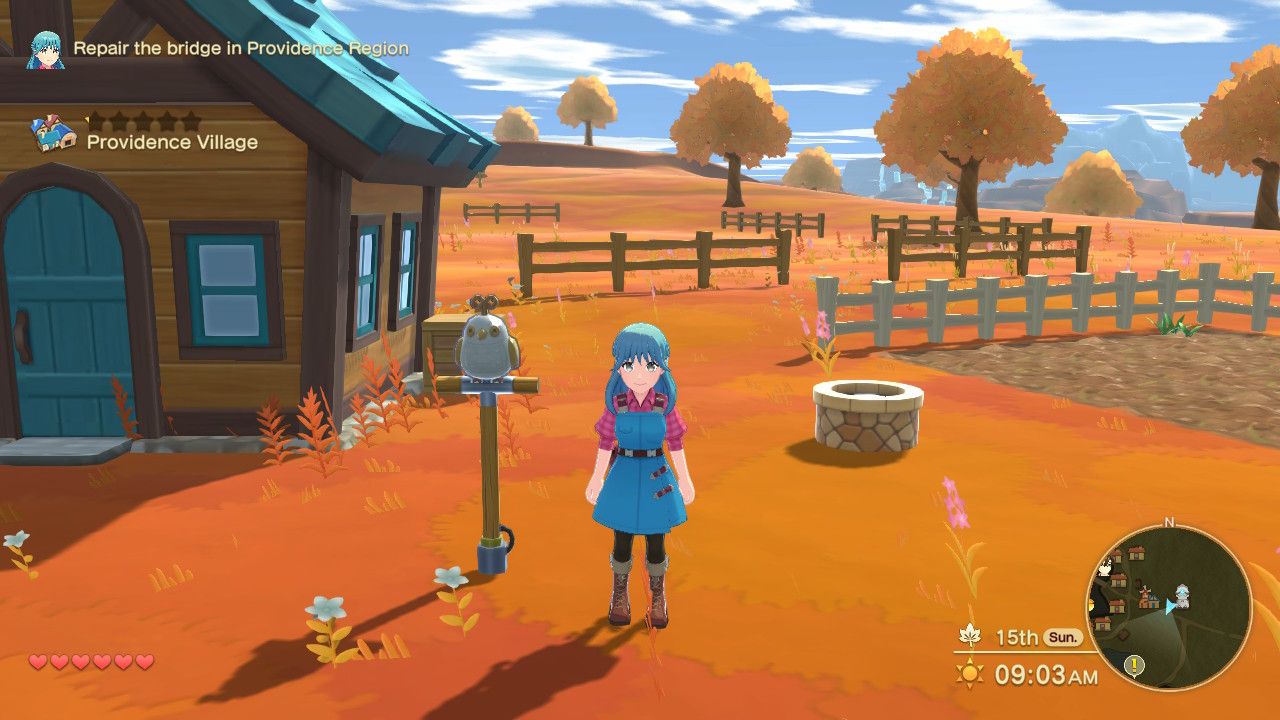 During your travels, you'll be introduced to the game mechanic that lets you move your farm. You can interact with little perches throughout the world and after a day your farm will be relocated.
It may not be important most of the time, but in the case of events or character birthdays it's important to know that you will skip a day. You won't be able to do anything else while your farm is moving. It only takes a few seconds in-game though.
Complete any tasks you want for the day before initiating the request to move your house.
Check the calendar for any upcoming important events that you don't want to miss before moving your farm. Additionally, it will not move your crop land with you.
You'll get a whole new plot of land in varying sizes to care for. You can either use just the new farmland when you relocate, or fast travel back to old farmland to care for multiple plots.
If you will only be using the new farm plot, collect any fencing you may have placed and reuse it in the new location to save resources.
What To Know About Crops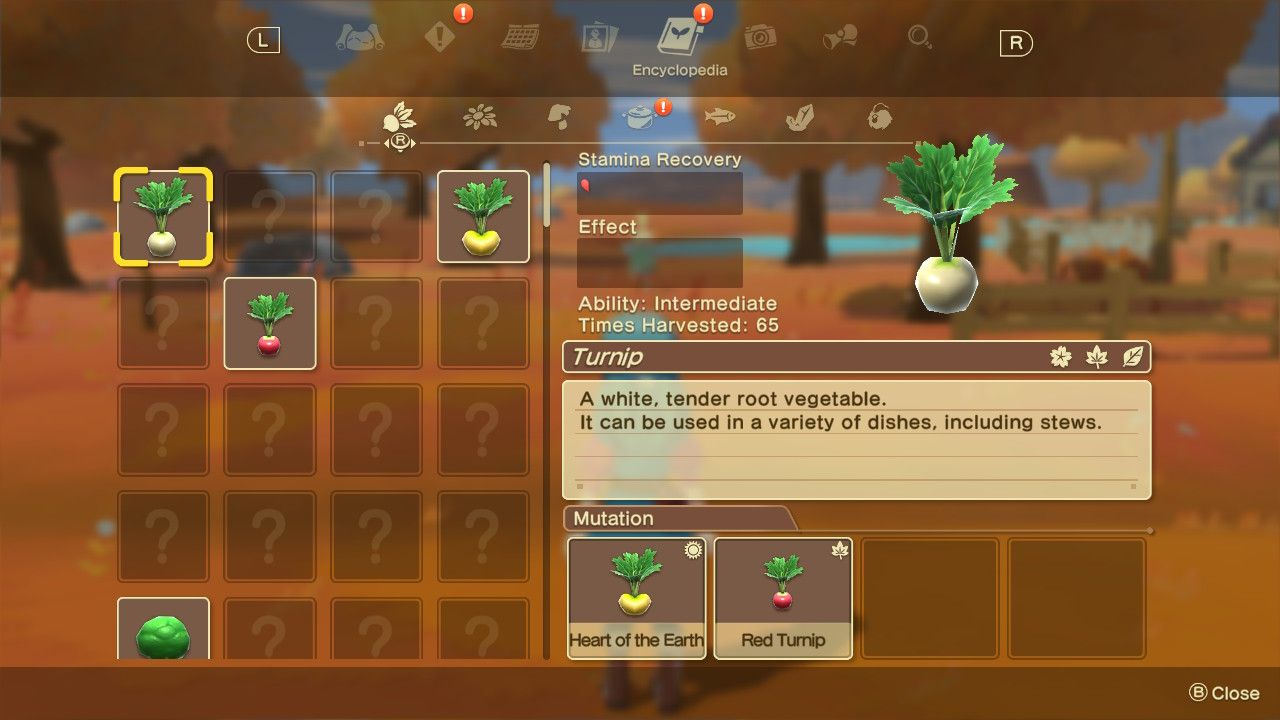 There are a handful of things you should know about crops in Harvest Moon: The Winds Of Anthos. Even though seeds come from sprites, there are a couple other bits of information that can help you progress.
You may receive requests and quests which specify a particular type of produce or flower. You have a chance to get a mutated version of crops, so you can try planting red tulip seeds to get an orange tulip for example.
Keep harvested tulips and daisies. You'll get an early quest for these flowers and won't be able to progress much without completing the quest.
Crops won't wilt when the season changes. Many seeds can grow in multiple seasons. The seeds you get in the starting area are fine to grow, and you won't lose all your existing crops when it changes from Spring to Summer.
You should always protect your crops with a fence. If you're only using the farming plot by your house, make sure no previous plots have fencing. If you successfully protect the crops at your house during bad weather, you may get a gift.
Special Golden Sprites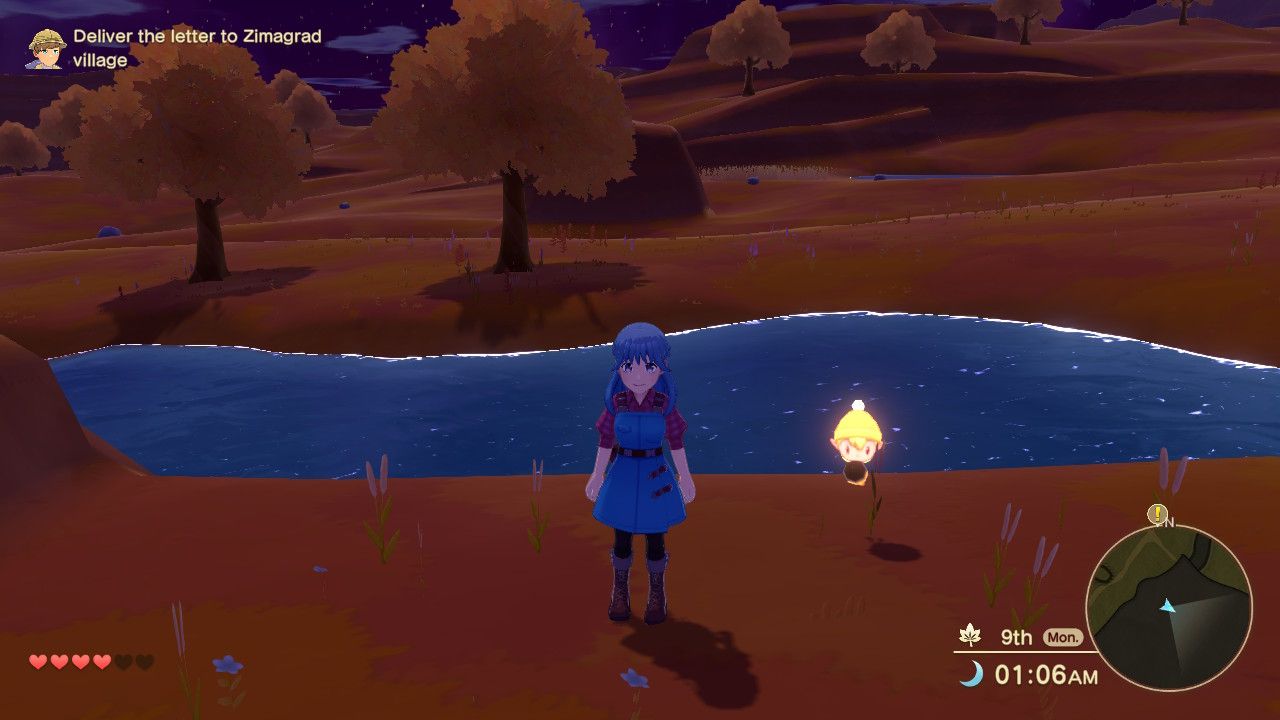 Unlike the usual seeds, golden sprites offer you with something unique – the harvest wisp fruit, which will serve as valuable currency in the future.
If you're wandering around at night, keep an eye out for these special golden sprites. They emit a glow that's more obvious in the darkness.
Gather as many of these as you can because they can enhance your stamina and expand your inventory. You'll find them listed in the star symbol tab of your inventory, alongside your essential tools and items.
Improve Your Cultural Level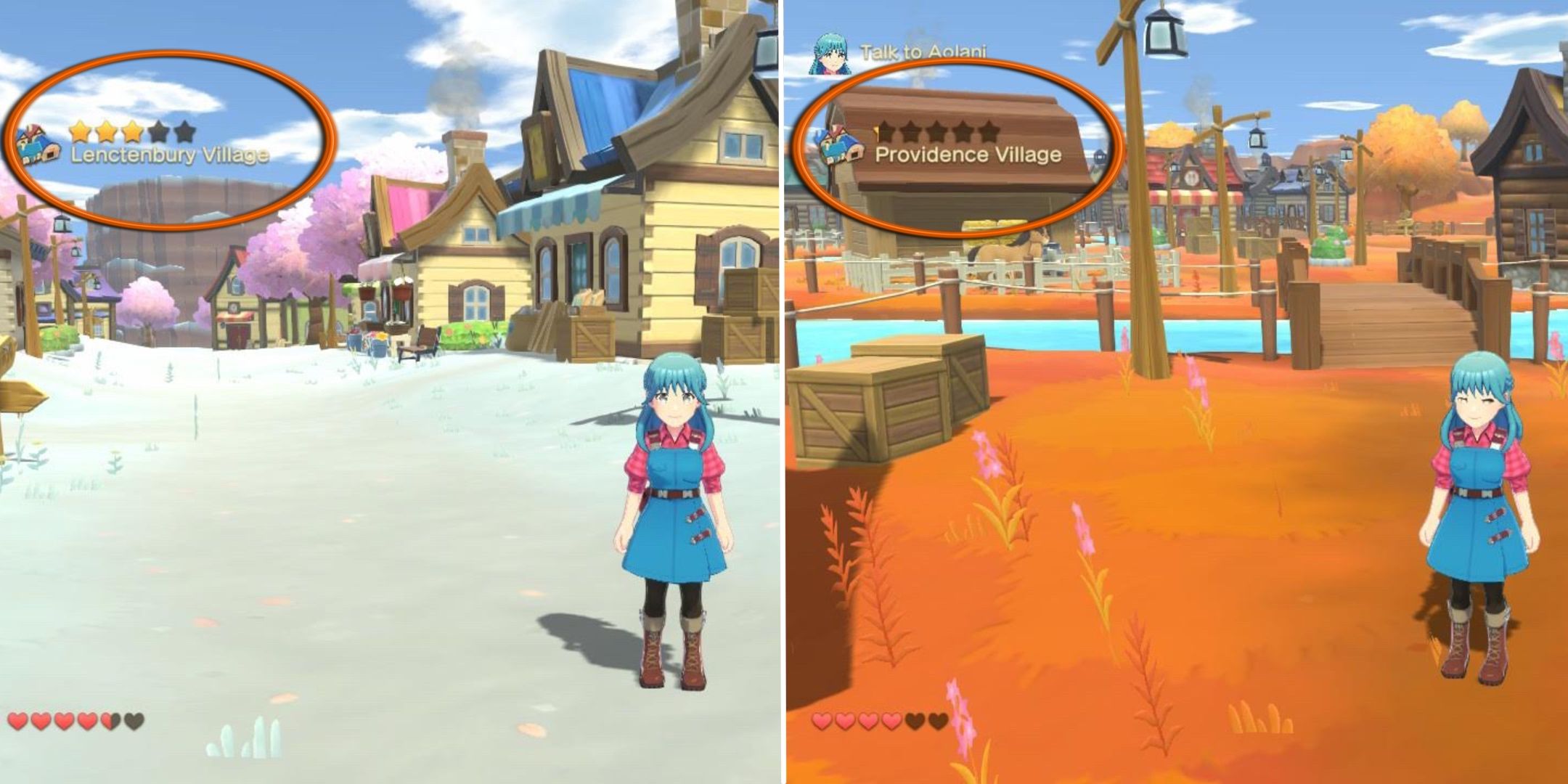 As you improve your cultural level, more things will become available to you. You'll receive more recipes, and stores will offer a wider variety of items.
Doing any quests that are designated with blue exclamation points or marked with blue stars will give more experience than doing regular tasks, but you should still do both.
Shipping things from your bin is also one of the ways to improve cultural level, but it takes a long time to get even one star. Stars will fill up slowly, but they will eventually fill up.
Keep completing tasks for townspeople, and exploring. You'll be a well-traveled adventuring farmer in no time.
Next: Harvest Moon: Best Bachelorettes Of The Series, Ranked