Pennsylvania is a state that boasts a wealth of natural beauty, fascinating history, and rich culture. Travelers looking for an unforgettable road trip should visit Kittatinny Ridge, located in the eastern part of the state. This scenic road trip destination offers stunning views, outdoor adventures, and small-town charm that will delight visitors of all ages. Stretching over 200 miles, the Kittatinny Ridge offers an array of astonishing landscapes, from robust mountain ranges and lush forests to sparkling rivers and scenic towns.
With abundant wildlife and plenty of outdoor activities, this road trip is ideal for nature lovers and adventure seekers. Hit the road and explore the beauty of Pennsylvania's Kittatinny Ridge; read on for everything travelers need to know to plan the ultimate road trip.
The Best Sights On A Kittatinny Ridge Road Trip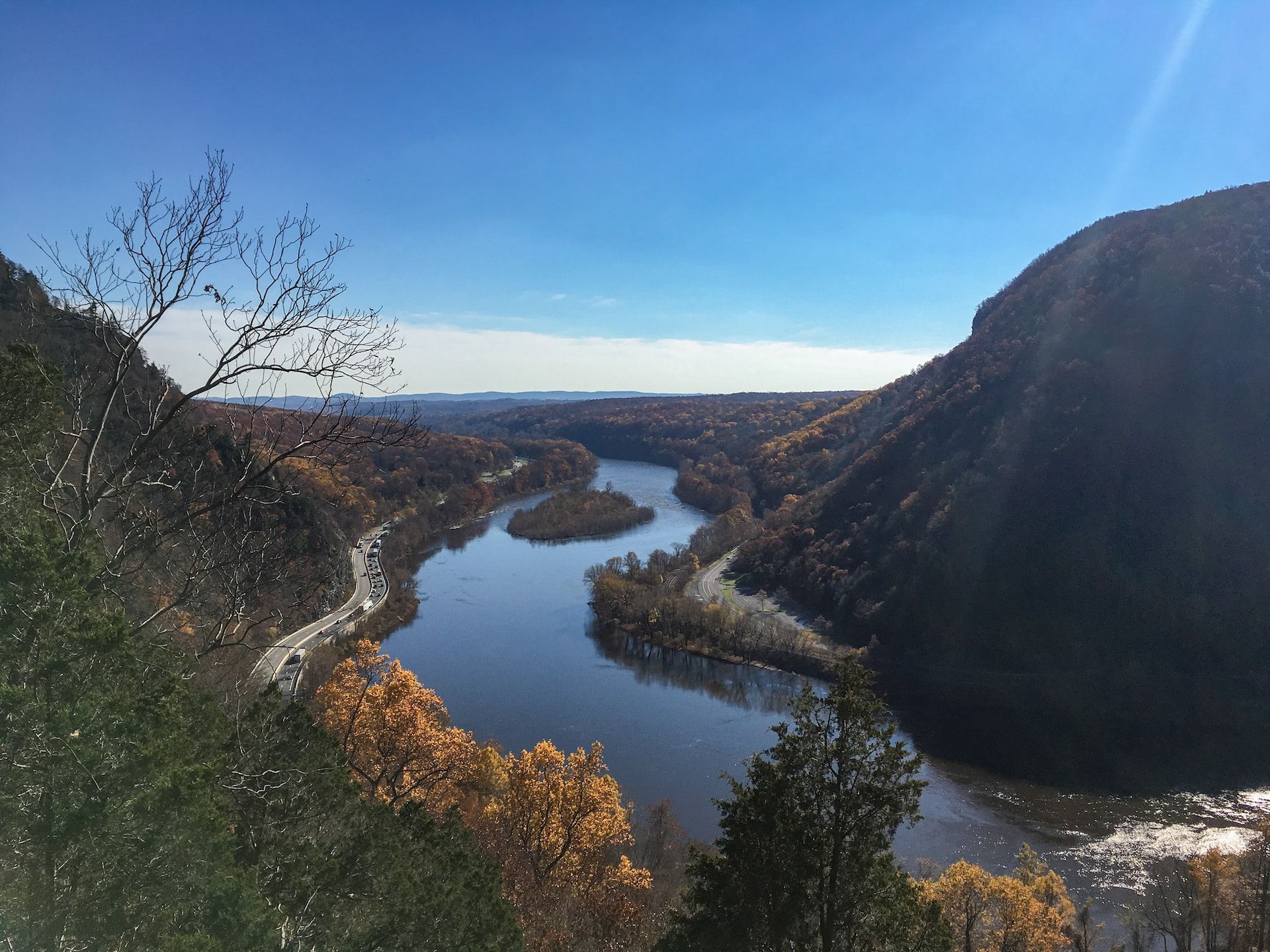 View of the Delaware Water Gap from the top of Mt. Tammany
The Kittatinny Ridge, which is also known as Blue Mountain and North Mountain, is part of the Appalachian Mountains, stretching through Pennsylvania, New Jersey, and New York. There are several roads and highways that run through or near the Kittatinny Ridge mountains, such as Route 322 and Route 11. These roads offer stunning views of the mountain range and the surrounding landscape.
Along the way, travelers can enjoy numerous stops and sights – out of them all, the following are some of the best stops on a Kittatinny Ridge road trip route.
The Mount Tammany Trail Is Ideal For Hikers
Hikers should check out the popular Mount Tammany Trail, which leads to a stunning overlook of the Delaware River and Kittatinny Ridge. Visitors can also enjoy water activities like kayaking and canoeing on the Delaware River or a scenic drive along the Delaware River Scenic Byway, which offers breathtaking views of the surrounding mountains and countryside. The trail offers breathtaking views of the Delaware River and the surrounding Kittatinny Ridge, with several scenic overlooks along the way that provide stunning vistas of the landscape.
In addition to the views, the Mt. Tammany Trail is also a great way to experience the natural beauty of the area up close. The trail is known for its rugged terrain and steep uphill climbs, making it a great choice for hikers who enjoy a bit of a challenge. Along the way, hikers can observe the diverse flora and fauna of the region, including wildflowers, ferns, and various species of birds and wildlife.
During the season, a free hiker shuttle service operates on weekends and holidays between the Dunnfield Creek lot, Kittatinny Visitors Center, and the Park and Ride in PA.
Related:
10 Awesome Things To Do In The Poconos Before Winter Is Over
This route is manageable, but be cautious; this is a serious steep uphill hike and not a stroll in the park. There are two trails to choose from going up to Mt Tammany, one red and one blue. The red trail is hard to hike up, while blue is more moderate. So, consider checking the trails out according to the travel company for the road trip.
The Delaware Water Gap: Enjoy Stunning Views In A Pristine Environment
One of the highlights of the road trip is the Delaware Water Gap National Recreation Area, which covers over 70,000 acres of forests, rivers, and mountains. The park offers hiking trails, fishing, boating, and camping opportunities. The park is also home to Dingmans Falls, the second-tallest waterfall in Pennsylvania, and the historic Millbrook Village, a 19th-century village that showcases life in rural America.
Delaware Water Gap National Recreation Area offers visitors an amazing opportunity to explore its natural beauty without having to pay any entrance fees. However, there are a few specific areas within the park that are considered Expanded Amenity Areas, offering additional services like lifeguards at the swim areas and special areas for grilling. These areas charge a fee, but they are only applicable during the months of April through October.
Delaware Water Gap National Recreation Area Hours: The recreation area is generally accessible to visitors 24 hours a day. However, areas within the park operate from sunrise to sunset.
Fees: Park Entrance Fee – $0.00 Park Vehicle Season Pass – $45.00
The Expanded Amenity Fees are applicable at the following developed areas in the park:
Turtle Beach (NJ), Milford Beach (PA), Dingmans Access (PA), Bushkill Access (PA), Smithfield Beach (PA)
Learn About The Area At The Pocono Environmental Education Center
Another must-see attraction is the Pocono Environmental Education Center (PEEC). The center offers a variety of outdoor activities and educational programs that are perfect for nature enthusiasts of all ages. Some of the activities that can be enjoyed at PEEC include hiking, birdwatching, camping, and kayaking. PEEC also offers educational programs on topics like wildlife conservation, sustainable living, and environmental science, which are led by experienced naturalists and educators.
One of the highlights of PEEC is its hiking trails, which offer stunning views of the surrounding landscape and opportunities to see local wildlife like deer, bears, and birds. The center also features a variety of outdoor exhibits and displays that showcase the natural history and ecology of the area, including a butterfly house, a bat exhibit, and a fossil display. Overall, whether for families with kids or a couple seeking romantic things to do in the Poconos, this stop is ideal for all travelers.
Address: 538 Emery Rd, Dingmans Ferry, PA 18328, United States
Opening hours: 7 days a week 8:30 to 4:30 PM
Enjoy stunning views of the Delaware Water Gap and the surrounding mountains from the center's observation deck.
What To Do On A Road Trip Near Kittatinny Ridge
The Kittatinny Ridge spans 185 miles from north to south, running through several states, including New Jersey, Maryland, and Pennsylvania, from the Delaware River to the Mason-Dixon Line in Pennsylvania. This makes it a great option for travelers considering exploring multiple states in one trip. Either way, travelers come across several interesting points worth visiting. Here are some highlights:
Hawk Mountain Sanctuary – Located in Kempton, Pennsylvania, Hawk Mountain Sanctuary is home to over 20 species of birds of prey, such as eagles and hawks. It also offers excellent hiking trails with beautiful views of the surrounding landscape.
Gettysburg National Military Park – Stop by Gettysburg National Military Park and explore the history of America's deadliest battle – from its days as a battlefield during the Civil War to its current status as one of America's most iconic historical sites.
Lehigh Gorge State Park – Located in White Haven, Pennsylvania, Lehigh Gorge State Park boasts stunning waterfalls and miles of hiking trails that offer spectacular views of Pine Creek Gorge.
Swatara State Park – Located in Pine Grove Furnace State Park, Swatara State Park is home to various wildlife and offers visitors the chance to explore its many hiking trails and fishing spots.
Related:Pennsylvania Just Introduced A New Charcuterie Trail, And This Is Why A Road Trip Is So Worth The Noms
How To Plan A Kittatinny Ridge Road Trip
To plan the ultimate Kittatinny Ridge road trip, start by deciding on the route and the budget. Along the way, travelers can find plenty of affordable accommodations, from cozy bed and breakfasts to rustic cabins and Kittatinny Ridge camping sites.
The itinerary is essential; organize the stops at the must-see attractions and allocate enough time for exploring the small towns along the way. And don't forget to pack comfortable clothes, hiking shoes, and outdoor gear for exciting adventures.
When planning a road trip along the Kittatinny Ridge, several other factors need to be taken into consideration, such as when to go (summer or fall are considered to be the best times in terms of scenery), which route to take (north or south), and where to stay (hotels or campgrounds).
Related:
Discover Pennsylvania's Longwood Gardens: Top 10 Reasons To Visit
A river with a waterfall and a waterfall bridge at the Delaware Water Gap, Pennsylvania, USA
Tips For Taking A Kittatinny Ridge Road Trip
To make the most of a Kittatinny Ridge road trip, here are some tips to keep in mind:
Be prepared for the outdoors (especially in summer): Make sure to bring appropriate clothing, gear, and safety equipment for outdoor activities. The best time to visit Pennsylvania's Kittatinny Ridge depends on the type of travelers that go on the trip. Go in summer for outdoor activities such as hiking or swimming at nearby lakes. The fall months are the perfect time to visit the Kittatinny Ridge for fall foliage, which is breathtaking, and the weather is mild and comfortable.
Make a solid plan: Make sure to book accommodations and activities in advance, especially during peak season. Check for road closures, construction, and other travel advisories before departure. Ensure to have enough time to see all the sights without feeling rushed. There are many beautiful towns to visit in Pennsylvania, so make the most out of it.
Bring a drone or a camera: The Kittatinny Ridge is a photographer's dream. Most visitors want to capture the stunning views, wildlife, and small-town charm along the way. For photographers, going in autumn is suggested due to the rich colors of the foliage at this time of the year. Hands down, that's why this route is one of the bucket list US road trips to take in the fall.